Hello, we're Sally and Tony Gratwick; the founders and owners of Bundle and Rust, North Lincolnshire based makers of goats milk soaps and other natural skin and hair care products. Although that's not how it all started…
In 2009 our first event was a local Christmas craft fair where we sold candles and a few soaps, but the soap making didn't really take off until a couple of years later when, in response to customer feedback on how difficult it was to find goats milk soap, we decided to concentrate our efforts in that direction. We started with just 6 varieties until, including shampoo and conditioner bars, we now have 40 different fragrances.
We have also introduced a range of men's grooming products under "The Ethical Gentleman" brand which at the moment consists of 4 goats milk shaving soaps, 8 beard oils and 7 beard balms.
We can often be found at craft fairs around the country, from local events to larger, more prestigious gatherings at Badminton and Chatsworth.
We are always experimenting with new products and fragrances, and expanding our range so keep an eye on our social media to see what's happening in the Bundle & Rust world.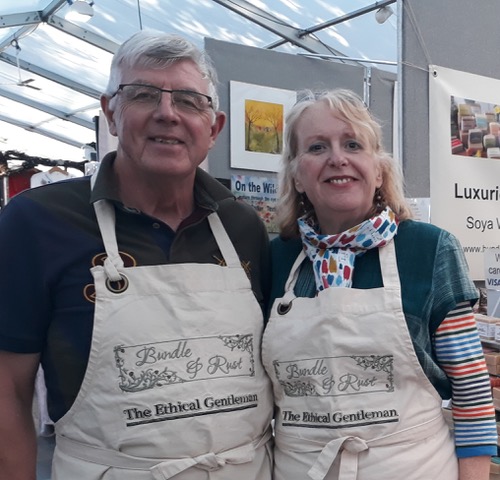 Going back to the start with the candles, we have our core fragrances with seasonal ones added when appropriate as well as a corresponding range of wax melts, which like our candles are made with Ecosoya wax. We also have diffusers in the same fragrances.
The latest addition has been our phenomenally successful lip balms which come in 8 luscious flavours and are made from vegetable and nut butters.
So that's what we do, making everything in small batches in our 'makery' here in a market town on the banks of the Humber, all in small batches so that we can ensure that the quality of anything we produce is the best possible.
So, what's so special about our products? Well, quite a lot of things actually, so here goes…
1. The milk we use is predominantly from Golden Guernsey Goats, a rare breed with creamy high fat milk, wonderful for soap making supplied by a smallholder in a village about 5 miles away from us and also by another Lincolnshire farmer.
2. Any fragrances used in our skincare and home fragrances are high quality essential oils, chosen for their therapeutic properties as well as their gorgeous smell.
3. We only use Ecosoya wax for the candles and melts as it is a lot better for you, your pets, your home and the environment than the usual paraffin waxes.
4. Goat's milk has been found by many people to be beneficial for soothing and helping skin problems such as eczema, psoriasis, contact dermatitis etc and our soaps are creamy and non-drying to the skin.
5. We use natural exfoliants, oats, pumice and seaweed, and don't add colours to any of our products.
6. We use minimal packaging which can be re-used or easily recycled, as well as reusing packaging when sending out parcels.
7. All our products are made from scratch, no 'melt and pour' soap bases or vaseline bases for the lip balms.
Of course, we could go on for hours about why we think our products are so good for you and the world we live in, but we'd rather you tried them for yourself so please take a look through our website and feel free to contact us with any questions as we'd love to hear from you.